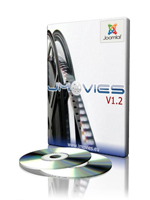 Jmovies 1.2 component, mambots and categories


Jmovies is a Joomla! component that allows you to have your very own video index on your Joomla! site. The component makes use of AJAX technology for the movie lists, reviews, and comments. Now featuring support for AllVideos Plugin, Jmovies is capable of displaying Flash Video.
The new (and significantly revamped) JMovies component has been released!
Make sure you check out a fully functional demo of the component, at the official JMovies demo site, at: http://demo.jmovies.eu

download here